Automotive
World-class offerings leading the way
Protect driver privacy and physical safety
Strengthen your automotive security and protect your fleet against the latest vulnerabilities. Our experience includes:

Automotive Cyber Security and Resilience Assessments – utilising Attacker-in-the-loop methodology
Component assessment
Sub assembly assessment
Whole vehicle assessment
After-sales product evaluation
Post production assessment
Intra and extra vehicle system assessment
Automotive Network Training
Classroom and kinaesthetic training
Zero to hero understanding of automotive networks and security
Legacy to future architecture
Bespoke packages
Commissioned Research

We regularly undertake doctoral and post-doctoral research in automotive cyber security. This is available for both commercial and private commissioning and is tailored to your requirements.

Lab Facility and Tooling
Compact, discreet laboratory for hire
Blueprint and HIL rig design available
Hardware and software
Rig tools are under-development to assist with security assessment projects
EMC and Faraday facility for hire
2G, 3G, 4G and 5G network testbed
Vehicle Forensics
Passenger, Haulage & Plant
Intelligence and evidential opportunities
Vehicle architecture
Contact info@ep90group.co.uk for more information.
---
Vehicle Security Assessments
Individual (operational and bespoke) or fleet solutions
End to End solutions
We are experienced operating through an asset's entire lifecycle and our services feed into full end to end fleet management.
​
Specify: We can work with you to set high level and detailed asset requirements, including cost benefit analysis, service design and service value (availability, adaptability, necessity, operational relevance, usability and affordability) across a range of financial models.
Design: We can design systems, policies, guidance and components to meet requirements or evolving requirements, and have a long history of specialist asset manufacture and project management.
Procure (Build, Adapt and Convert): We can procure assets, project manage the entire process and bespoke build, adapt or convert in line with your requirements and maintenance plans, (excise and insurance as well, if required).
Manage: We can provide full in-life service schedule and delivery. Not only the implementation of factory service schedule, updates, settings and consumables, but recalls, bespoke service schedules, diagnostics and prognostics to ensure that any asset is operational for the maximum utility. Within Manage we can undertake regular TSCM and cyber hygiene assessments and undertake the pre- and post-security assessment if or when an asset is out of the controller's control. We refer to this as the cyber valet
​End of Life disposal. When end of life is agreed, we securely ensure that all sensitive data and information is removed from an asset, such that an Operational Security Advisor (OpSy) is satisfied and an organisation's environmental commitments are upheld.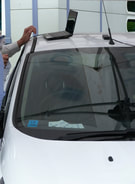 ---